Transmission diagnostics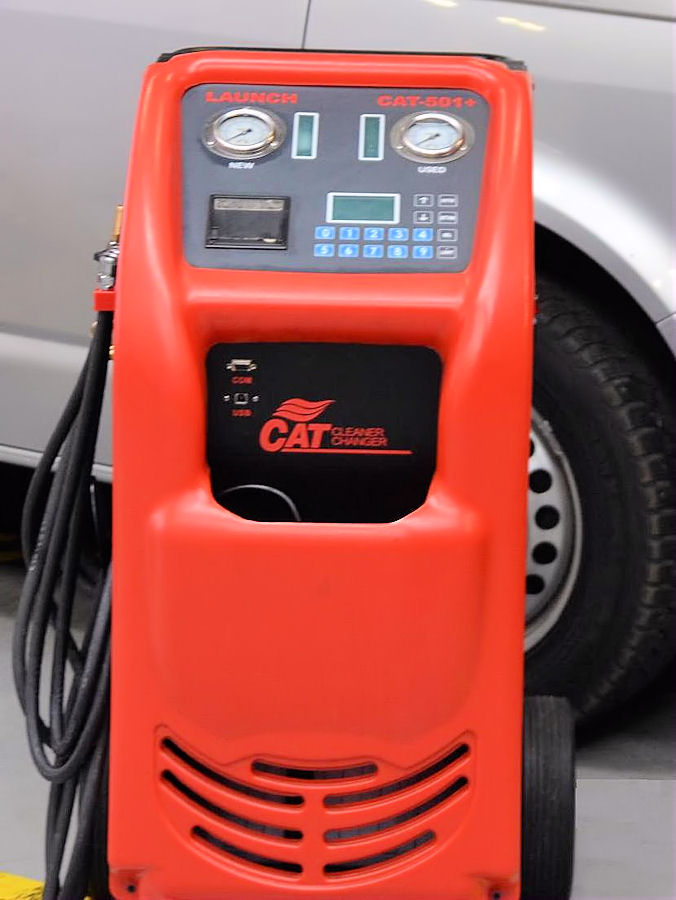 We kindly invite you to stay up-to-date with the novelties in our transmission diagnostics and regeneration novelties.

Our vehicle mechanics workshop includes CAT-501, an automatic equipment dedicated to precise oil exchange suitable for automatic transmissions.

Dynamic oil exchange allows to change the used fluid to a new one nearly completely. After static exchange, we unscrew the return wire to the oil cooler towards the transmission. Afterwards, we apply a special unit with a stopcock that allows to regulate the flow.

In place of the oil filler neck, we assemble a device with a stopcock that allows to measure the appropriate amount of oil.

After filling both stopcocks with convenient oil, we place them in their appropriate positions and launch the engine. Afterwards, we turn the gearshift to all positions (for example, P-R-N-D-3-2-1, 2-3-D-N-R-P). This activity ought to be continued until clean oil flows from the cooler's wire. Afterwards, we turn the engine off. We link the return wire back from the oil cooler to the transmission and disconnect the filling device. Once done, we start the engine once again and conduct oil level measurement. In case of need, we can correct it. In case of dynamic oil replacement combined with rinsing of transmission, converter and cooler, the amount of used oil ought to be on a par with the full level expected for this type of transmission + additional 20-30%.
Information
If you have any questions, please call:


or
or use our contact form
We offer ROADSIDE ASSISTANCE for 24 hours, 7 days throughout the week
We can repair transmission in vehicles of all brands
We repair and regenerate manual, automatic and semi-automatic transmissions
We offer transmission maintenance services along with a wide range of automotive mechanics services
You can send the removed transmission to us by courier for repair/regeneration